Petra K. Furniss-Lober
Born in 1964 in Berlin, married and lived since 2022 in a "Chocolate Box" village in CW of France.
A concept for me is extremely emotional; freedom of the imagination, the interpretation of perspectives and realisation of viewpoints, observations made in life along with relative design.
The fascination lies in blue as well as the transformation; the process of creating a picture.
My artistic background encompasses aspects characterised by professional training as a technical draughtswoman (1981), academic studies becoming a teacher of art (teaching college studies, 1986), university studies in 2001 in the field of general art education and organisational development. In addition to this, I took specialist training in the field of human resources and development (2007).
In the forthcoming months, I intend on providing online classes based on your personal needs. A facilitator for beginners. I have been working as a freelance artist since 2019.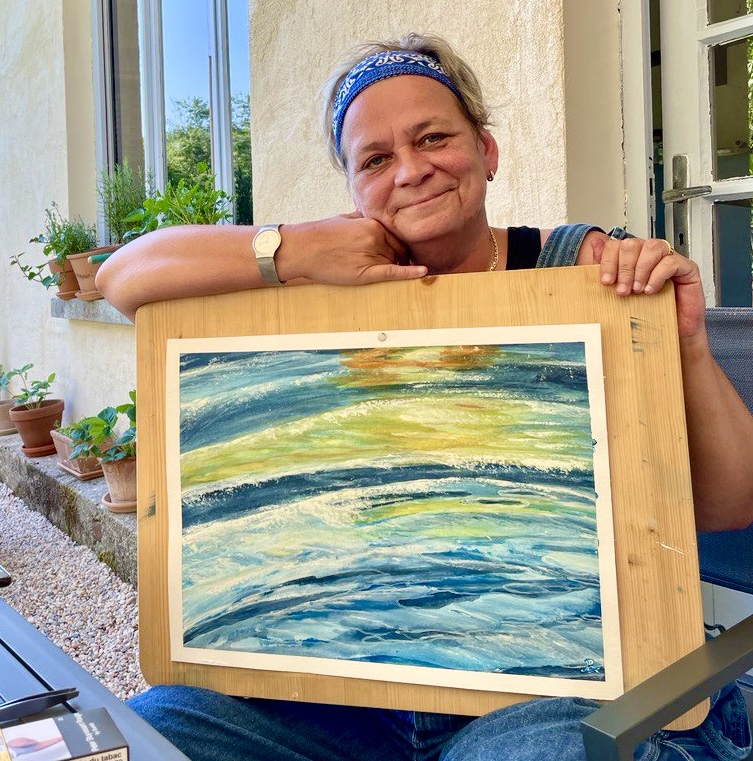 Main focus
Landscape painting, seascapes, water paintings and waves. Recently, many pond scenes and smaller abstract portraits to include own picture collages and poetry by the illustrations with photos as an added bonus. In 2021 a commission to illustrate a book cover was submitted to me.
Techniques
Watercolour, oil painting, crayons, chalk, pastel, acrylic and mixed concepts.
Preferred formats
Between A3 and A5; using a variety of textures including cotton paper, khadi, hardboard, paperboard, aquarelle (250g/425g) and other types of base as a challenge.